6/08/2007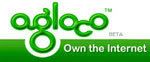 Agloco sent its members an email recently to give an update report of sorts about its Viewbar software that members use to earn ad revenue while surfing. People who swear by Agloco are those who have managed to sign up referrals, although when payment will be made for these referrals is unclear. The longer Agloco drags it feet launching the Viewbar, the more dropouts there will be as people seek out better ways to make money online. Worst still for those who have actually spent money advertising in AdWords and paid posts for referrals.
Although many have come out strongly against it, some even calling it a scam, its concept is still fundamentally sound enough for many, including big names like John Chow to sign up. However, I think only the referrals can earn any good money, assuming you get paid eventually. The paid surfing concept falls under the categories of get paid to post, get paid to read emails and get paid to complete offers- generally not worth the amount of time required to earn very little returns.
Here's the email from Agloco.
We will be releasing the AGLOCO Viewbar software soon and want to update Members on how things will work when it is released.

Each Member will get an email informing them that their Viewbar is available. It will contain detailed instructions on the download, which will be done from the agloco.com website. Members will be invited to download in groups of 50,000 a day for a two week period, with Members contacted in the order in which they signed up.

Shortly before the first set of download emails go out, you will receive an email notice that the AGLOCO website will be 'out of service' for a few hours – this is necessary for us to move the Viewbar download system from the test server to the main servers.

Also, please be aware of the following:

1. AGLOCO Hours: You will accrue hours in your AGLOCO Member account (current maximum is five direct hours a month). Hours are earned during active surfing on the Internet. The Viewbar has a green light on it that notifies the Member when it is accruing time. Your referrals' surfing will accumulate hours for you at a 25% rate, meaning if one of your referrals surfs for the maximum five hours you will get 1.25 (0.25 x 5) hours credited to your total referral hours. You can only get credit referral hours up to the amount you directly surf (meaning if you surf 3 hours but a referral surfs 4, you will only get credit for the first 3 of your referral's 4 hours). AGLOCO accrues these hours each month and also has a cumulative total of all hours earned. These hours are what AGLOCO will use to calculate cash and other distributions. The Viewbar contains a one click inactive button which turns it off and removes it from your screen at any time.

2. Initial Release for Windows: The initial Viewbar release will be for Windows Vista, XP, 2000 Pro and 2000 Server. Later, we will release Mac and Linux versions of the Viewbar. Until that occurs, Mac/Linux users can still log onto any supported Windows computer and accumulate their five hours. The Viewbar works with browsers IE 5.5 or higher and Firefox 1.5 or higher.

3. Cash Distributions: To be a sustainable entity in the long term, AGLOCO makes Member cash distributions from its positive cash flow (revenue minus costs). Therefore, please do not expect a check after the first couple of months as it will take time to collect revenue from advertisers and this revenue must exceed costs in order to make cash distributions to Members. We will be keeping Members informed of our financials and you can visit the Official company blog at http://blog.agloco.com for the latest updates.

4. Multiple Users on One Viewbar: As stated previously, multiple Members may use the same Viewbar on the same computer. Only one Viewbar download will be necessary as the Viewbar software will enable each Member to log in and log out using their AGLOCO Member ID# and password (obviously, only one Member ID# can be accumulating Viewbar hours at any one time). Please note, only one Viewbar is allowed on a screen at a time.

5. One-Time Download: The v1.0 Viewbar is purposely simplistic and minimalist, but it also comes equipped with an automatic self-updating feature. Once you download the Viewbar for the first time, your Viewbar will be seamlessly updated with new additions and features as they become available. These future features include the direct cash back feature when a Member purchases items on sponsor site and a portion of the purchase price is added back to the Member's AGLOCO account (as described on the Official AGLOCO Blog at http://blog.agloco.com/index.php/post35/ . )

We look forward to your active participation in the AGLOCO community.

Dan Jorgensen
Member Coordinator